America Mineiro: Part Three
Note: This is part three of a three part story! If you haven't already read part one and two, then you can read part one here and read part two here.
The third and final part of my Gilberto Pilgrimage took me on a half-hour trip down the road to the other side of Belo Horizonte. Here's the short journey on a map of Belo Horizonte:
I was going to 'Estádio Independência' - America Mineiro's stadium. America Mineiro was Gilberto's first ever professional club, and he played at this home stadium for a few years as he started his career.

In the taxi on the way to America Mineiro
I was hoping to be able to go round the stadium as I had done at Atletico Mineiro - and if possible, I hoped to find something Gilberto Silva related at the ground.
All I knew about the stadium was that it was in a remote neighbourhood. I had only seen a photo of the stadium on Google Maps, so didn't know what else to expect:

The Estadio Independencia as seen on Google Maps
When I arrived at the ground with my taxi driver, it was clear that the stadium was not well maintained. The outside walls were sprayed with a lot of graffiti:

The Estadio Independencia from outside the stadium
Unfortunately, the gates to the stadium were locked, and there seemed to be nobody available inside to let me in. Despite this, my taxi driver shouted through the fence of the stadium to see if anybody was around:

The taxi driver hollered through this gate to see if anybody was around
Approximately five minutes later, to my great surprise, a groundsman suddenly appeared behind the gates. He asked who I was, and when I replied that I was an "English Journalist" (I quickly learnt that this phrase got me special help wherever I went), and the groundsman let me inside the stadium to take a few photos. Here's some that I took:

The club shop at Atletico Mineiro's Estadio Independencia

The right hand goal at the Estadio Independencia
I noticed that the inside of the stadium was very different to the outside; it was very well maintained, and looked quite new - even a bit unused.
I carried on taking my photos:

The Estadio Independencia's stadium building

The stands at the Estadio Independencia - a very impressive stadium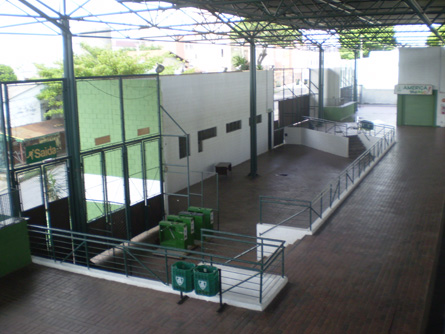 The Estadio Independencia's foyer - very clean, but any sign of Gilberto?
I saw the groundsman waiting around:

The kind groundsman who let me in to the stadium
So I walked over to him and asked him a few questions about Gilberto Silva. He knew that Gilberto Silva used to play at America Mineiro; but beyond this, he said that there was nothing available to see which bore the name of Gilberto Silva. This saddened me greatly. The last stop on my Great Gilberto Pilgrimage would, again, leave no trace of Gilberto.
I suddenly felt very sad. In none of the places that Gilberto spent his time in Brazil did there seem to be any evidence that he was ever there. This got me thinking; if someone as famous and successful as Gilberto Silva leaves no sign or trace in the places he has been, then what hope is there for the rest of us? What hope was there for me? What hope was there for my Great Gilberto Pilgrimage?
The answer to the last three questions is obviously "there is every hope!". Waving good bye to the groundsman as I left America Mineiro's ground, I realised that even though I'd not seen any object with Gilberto's name on, I hadn't spoken to a single person all trip who didn't know who he was. Gilberto's name didn't exist painted onto any walls, and nor did his photo dwell upon any wall; but his memory existed in peoples' minds. Everybody I had spoken to about Gilberto on my trip had known who he was, and what he had done. They knew that he fought against all odds to create his own success, and it was unlikely that they would ever forget him. Each person who heard the name "Gilberto Silva" instantly smiled - and whether it was out of fondness or mere nostalgia, isn't this what we are all aiming for? To instill this reaction into the people we meet?
The lesson to learn from the story of the Brazilian boy named Gilberto is this: It is not what you change - it is truly who you change.
Or at least I hoped so.
~
Thank you for reading.